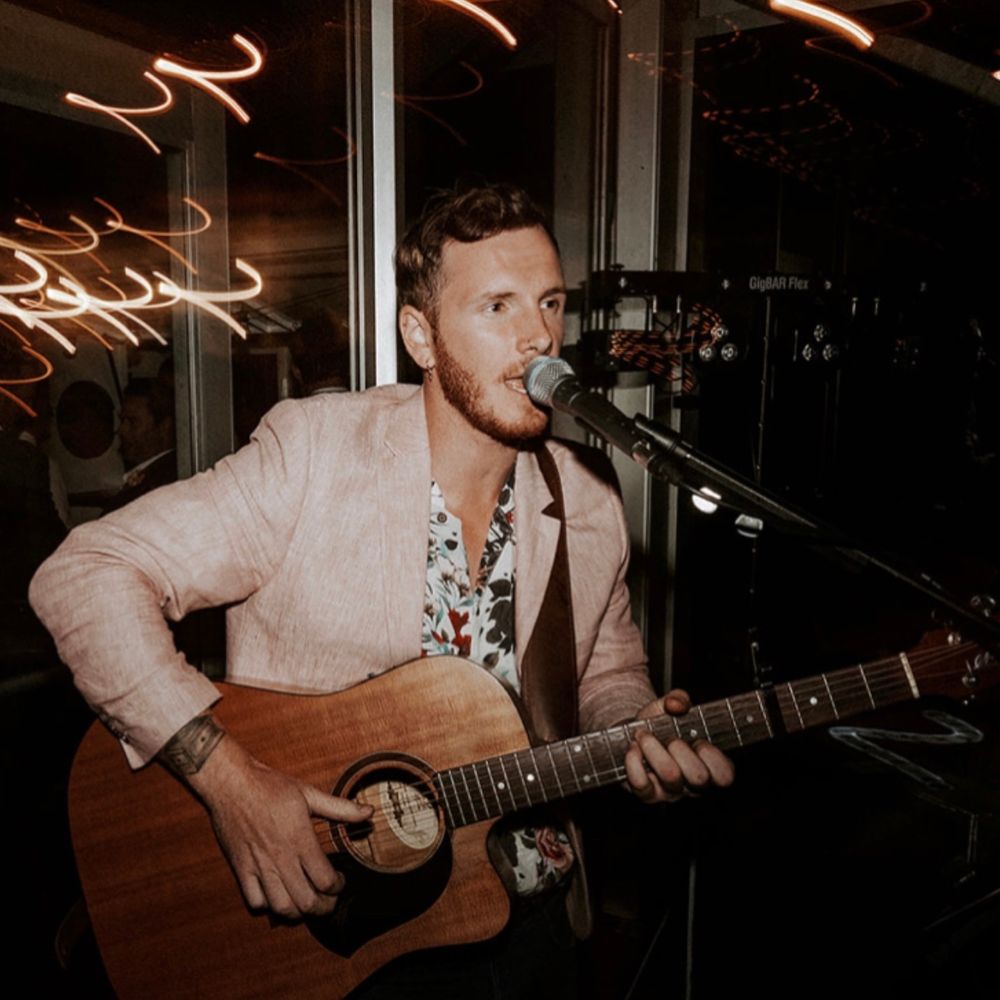 About Kent
Kent Tonscheck is a Gold Coast based acoustic musician and DJ with 9 years experience playing for weddings, corporate events, bars, breweries, birthdays and everything in between across QLD, NSW and even a little in USA, Singapore and Philippines. Looping voice, guitar and a sample pad drum, he can cover a large range of genres and eras to suit the vibe of any occasion. Kent also releases original music as 'Kent Dustin'
Weddings
Starting from $850 (inc. GST)
3 hours: Pre-ceremony acoustic music to set the magic while guests take their seats. Ceremony moments and canapés/cocktail hour.
5 hours: Ceremony, canapés & live music for a dinner set for reception.
7 hours: Ceremony, Canapés & Reception dinner live plus DJ after to kick the heels up at the end of the night.
All packages can be flexible to suit your plans. I provide all PA equipment needed, including a mic for your mc and Speeches as well as dance floor lighting. I also have a battery amp if the ceremony doesn't have power nearby. Let's create the wedding of your dreams! 
Wedding Reviews
"Now you can employ any wedding singer, and then there is Kent. I promise it will be your best decision!! He's not just a weddings singer, he performs live across Southeast Queensland and you can see this in the way he conducts himself…like I said, perfection! From his acoustic tunes in our cocktail hour and beyond, through to our first dance, he read the room like a true professional and tailored the music accordingly. We also asked him to learn our first dance song and it was executed flawlessly. I have honestly never heard a musician play as well as Kent and his skills do not stop there. He also DJ'd the event. Our request for Kent, selected song choices so our guests would dance like no one was watching, he delivered! Kent, thank you. Your music, your presence, your talents, your willingness to go that extra mile for us…and the fact that you are pretty rad in person, you literally made our night." - Caitlin & Steve 
 
"Thanks for an amazing day Kent!!! You really set the tone for our day!!! Our guests loved your music and so did we!!! Thank you for making our day pure magic. 🙏🙏🙏✨✨✨" - Tamera & Adrian 
 
We recently were lucky enough to have Kent as our live musician and DJ for our wedding and we cannot recommend him enough! We wanted him to do our entire day as we loved his vibe, and even though it was a long 10 hour day for him- he didn't show it. His enthusiasm, professionalism and talent was outstanding the entire time. He read our requests and took everything in to consideration, took requests from our guests on the night and was a pleasure to be around and so easy to work with the entire process. His talent and passion is unbelievable. Kent was easily one of our top vendors and can say without hesitation he made our wedding day and the fun vibe we dreamt of. Our guests are still talking about how talented and amazing he was on our wedding. Book him before he books out!!! - Tim & Rachel
 
"It wasn't difficult to find Kent as he was referred to us from two sets of friends who had him play at both of their weddings. Little did we realise that Kent is such a dynamic musician that he could cater to all our music needs. From the ceremony to reception, he had it all covered! He played and sang our wedding procession song live (which he learnt for our wedding). This helps a lot with flexibility in the timing of the bridal party walking down as Kent can adjust the song to the situation. Something I would highly recommend. He played acoustic for the pre ceremony drinks and grazing time, and then turned it up with his DJ skills for the reception! Kent was flexible to work with and so easy going. He has a real enthusiasm for weddings and events, and we are so thankful to him for making our wedding all that we had hoped for! We highly recommend KT and are grateful that we chose him to look after the music at our wedding! It is a really important part of a wedding day. Thanks Kent, we love you!" - Roxanne & Joshua